Shelley hosts four beautiful and very functional city parks:
Shelley City Park is located between Highway 91 and the 200 block of North Park Ave.
This Park has four baseball diamonds, two shelters with picnic table, a basketball court, and newly updated playground equipment.
Brinkman Park is located across from the Shelley High School on the corner of East Fir and Hansen Avenue.
This park has a newly built skatepark, tennis courts, a handball court, a basketball court, one shelter with picnic tables. No scooters or bicycles are allowed on the skatepark. Citations are issued to violators.
David B. Bleak Memorial Park is located on Byron Street and has new playground equipment
Pillsbury Park is located next to the Shelley Swimming Pool at 440 S. Milton. This park has one small shelter on the upper level of the park, and two larger shelters with tables to accommodate large groups on the lower level. There is a basketball court and several pieces of playground equipment. While visiting this park you can take advantage of our outdoor heated pool that is open from approximately June 1st through September 1st.
With advance notice our city pool and shelter are available for reservations. If you plan a family reunion or any large group activity and may need a shelter please call (208) 357-3390.
Within five miles of Shelley are located two other parks with access to boating and fishing activities:
Gem Lake Dam is located three miles north of Shelley on the Snake River. This park offers water skiing, fishing, and shelter for picnicking.
Bingham County North Park is located two miles west of Shelley on the banks of the Snake River. This park offers boating and fishing access. This park host RV parking with hookups, picnic shelters, and tables. It has an enclosed playground, basketball courts, baseball diamonds, and open grassy areas to be used for various games. Also, next to this park is the Red Baron RC Model Airplane Flyers air strip. Several times during the year, members from all over gather compete.
For those who love taking leisurely strolls, a nature trail connects the City of Shelley to the Bingham County Park. The trail consists of two miles of paved sidewalk that follows the banks of the beautiful Snake River. Walkers, joggers, and rollerbladers frequent this path.
Many recreational programs are offered throughout the year to keep both adults and youth busy. The list includes:
Swimming lessons, Grid Kid football, flag football, Jazz basketball, girl's softball, boy's baseball, T-Ball, Adult Co-Ed softball, Teen Co-Ed softball, volleyball, AYSO soccer, and wrestling. Hunter's Education courses are also offered throughout the year by trained instructors.
For All Sports-Related Inquiries
Contact Mikel Anderson
Skate Park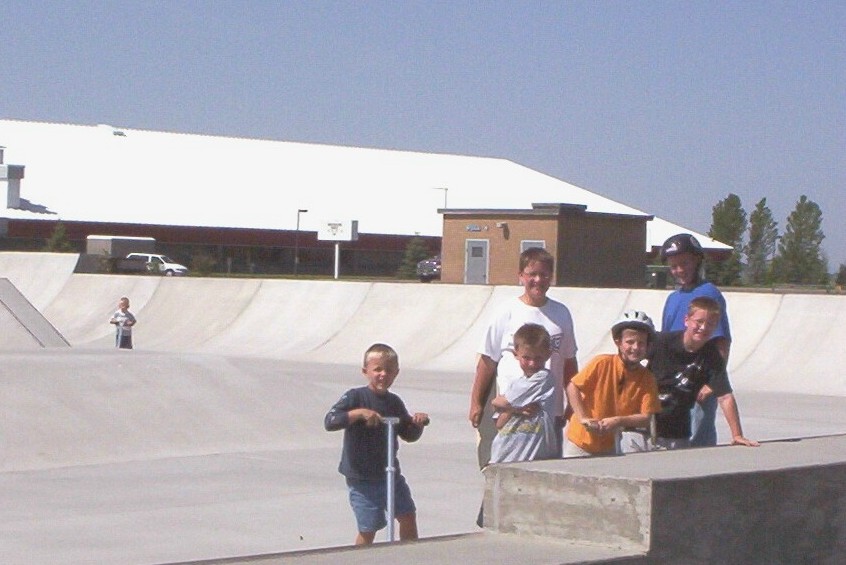 The Skate Park is open year round from dawn to dusk.
No Bicycles are allowed on the Skate Park. This ordinance will be strictly enforced and all violators will be cited.
Shelley Swimming Pool
The Shelley Pool is open from approximately the end of May through the first of September depending on weather conditions. The pool staff provides swimming lessons during the morning hours and the pool is open for public swim during the afternoon.
The Mayor and City Council would like to recognize the pool staff for their dedication and hard work. To be a lifeguard takes great responsibility and the city takes pride in our pool staff.
With advance notice our city pool and shelter are available for reservations . If you wish to make a pool reservation please call the pool at 357-7207. If you plan a family reunion or any large group activity and may need a shelter please call (208) 357-3390. Click below to find more information regarding Pool Hours, Fees, and Swimming Lesson Schedules.
Phone: (208) 357-7207